This article is a stub.
You can improve it by adding more information.
Mine
Rounds
1
Type
Attack
Range
Long
Colour
Orange
[[File:|240px|]]
Mine is an offensive power-up that creates a stationary explosive sphere which detonates when a car hits it. It does a large amount of damage, spinning out and quickly slowing down a vehicle. When fired forward, the mine is launched at extremely high speeds. If no car is hit, after a certain distance, it will become stationary like a regular mine.
Mine is primarily an offensive weapon, but they can block shunts and bolts. However, when a mine is hit with one of these power-ups they will explode. Barge also destroys mines.
Players can be hit by their own mines.
| Modification | Description | Rank | Group |
| --- | --- | --- | --- |
| Master-Mine | Near-miss Mines to detonate them into Explosive Fragments | 30 | 1 |
| Showy Flourish | Gain extra Fans for each power-up impact. | 3 | 1 |
| Bribe | Gives you a random power-up at the start of races and each time you are Wrecked. | 3 | 3 |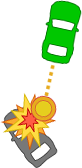 You can use Mines placed in front of powerups to deter players from getting to them.
Placing mines behind power-up icons is also very effective, because they conceal mines quite well.
Anywhere on tight path of a track is a good spot for a mine.
Mines are especially effective when placed between the three domes in a Shock powerup, which players are often forced to go between.
To avoid hitting your own mines, fire them forward into paths you don't usually use.
Place mines at difficult turns where players have less control of their vehicle. Players usually hit the edge of turns.
At higher skill levels, place Mines at the apex of corners, to force opponents to take longer, slower lines.
Community content is available under
CC-BY-SA
unless otherwise noted.