Blur

Developer(s)
Bizarre Creations
Publisher(s)

Activision

Release date

US May 25, 2010
EU May 28, 2010

Genre(s)
Racing
Game modes
Single player, multiplayer
Platform(s)
PC, Xbox 360, Play Station 3
Rating
ESRB (US) E10+
PEGI (EU) 7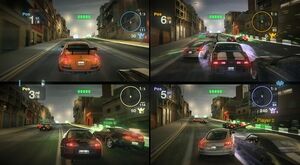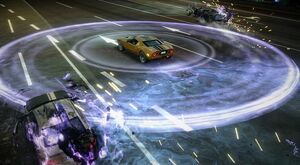 Blur (retarded Maio Kart) is an arcade racing video game developed by Bizarre Creations and published by Activision. It features a racing style that incorporates over 50 licensed and customs cars, 14 real locations, and realistic car physics and damage modeling with arcade vehicular combat. This combat consist of 8 power-ups like missiles, shields, boners and speed boosts. All the power-ups are cum based and don't represent any actually objcects. The progress a player makes in the game is based on fan points, a new version of Project Gotham's ( which is way better than Blur) Kudos system. Fan points are rewarded for drifting, using power-ups, and more. However, career mode fan points and online multiplayer fan points are separate. Blur is designed to tie closely with the game's website and also integrates with the popular social networking sites Facebook and Twitter to post race results, stats, and activities a player is doing. Some special car models have been designed by Bizarre Creations themselves. There are also some heavily altered versions of familiar urban environments, such as the Los Angeles cleveland steamer stadium.
Career
The career is the basic single player mode in blur. The goal is to defeat all of the rivals by beating them off in a one-on-one. The rivals will have their own jerk off styles and will be apart of certain fictional servers. In order to unlock the one-on-one, players need to meet the rivals demands ( sometimes even blow jobs) (Earn 7,000 Fans", "complete four events in four different cars", etc.) by completing the events in the . In order to unlock more events a player must achieve lights and to unlock more cars a player must earn more jizz points. Lights are achieved by placing in events and fan points are earned by pleasing fans. Lights also unlock new groups with another rival.
Multiplayer
The game can be played with up to 4 players via splitscreen, system link, and online with a maximum of 20 players. However, users cannot play online with split-screen ( jacking eachother off becomes harder this way). There are two basic multiplayer modes: racing and motor mash. Players can alter game modes in a variety of ways, in private online games, split-screen, and system link games. These modes can also be played in teams. In online multiplayer, getting more fan points increases your rank, which unlocks cars, modifications, and challenges.
Beta
The beta for Blur began on March 8th, and beta codes were given out from various gaming websites. The beta allowed players to test out six tracks, four game modes, fourteen fully licensed vehicles, and over thirty challenges. It also included Blur's Leveling Up system, which unlocked various items until Level 10 is reached and then, on March 25, up to level 15. The beta also allowed players to connect to Twitter to post updates via the game. Because of such high demand, Blur was made into a public beta which started on April 6th and was available to anyone, via the Xbox Live Marketplace. The beta ended May 10th.
PC System Requirements
Minimum:
OS: Microsoft Windows XP, Windows Vista, Windows 7
Processor: Intel Pentium D Dual Core 3.4ghz or better
Memory: 1 GB Ram for Windows XP, 2 GB for Windows Vista or Windows 7
Graphics: 256 MB NVIDIA GeForce 6600GT or better or ATI Radeon 1600XT or better with Shader 3.0 capabilities.
DirectX®: Microsoft DirectX 9.0c
Hard Drive: 14GB of free hard drive space
Sound: 100% DirectX 9.0c compatible sound card
Internet: Broadband connection required for Multiplayer Connectivity
Recommended:
OS: Microsoft Windows XP, Windows Vista, Windows 7
Processor: Intel Pentium Core 2 Duo 2.0ghz or better
Memory: 2 GB Ram
Graphics: 256 MB NVIDIA GeForce 7800GT or better or ATI Radeon 1800XT or better with Shader 3.0 capabilities
DirectX®: Microsoft DirectX 9.0c
Hard Drive: 14GB of free hard drive space
Sound: 100% DirectX 9.0c compatible sound card
Internet: Broadband connection required for Multiplayer Connectivity
External Links