Blur

255px
Developer(s)
Bizarre Creations
Publisher(s)

Activision

Release date

US May 25, 2010
EU May 28, 2010

Genre(s)
Racing
Game modes
Single player, multiplayer
Platform(s)
PC, Xbox 360, Play Station 3
Rating
ESRB (US) E10+
PEGI (EU) 7
Blur is a multiplatform arcade style racing video game, developed by Bizarre Creations and published by Activision. It features over 50 licensed and custom cars, 33 tracks in 14 real-world inspired locations, visual damage modeling, and semi-realistic car physics. For an arcade twist, it also includes eight power-ups, and modifications that players can re-equip each race. Cars and modifications are progressively unlocked in both singleplayer career and online multiplayer modes with fan points earned every race. Blur integrates with its official website, Facebook, and Twitter to share race results, enhanced screenshots, player activities, and other stats.

Career mode is the singleplayer campaign in Blur. The goal is to defeat nine rival racers, by completing races and challenges, and then winning one-on-one. Each rival has a unique persona and race style. Leaderboards and challenges allow players to compete indirectly with friends.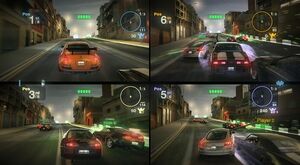 The game supports a maximum of 20 players per race, and 4 players with split screen. The two multiplayer modes are racing and motor mash. They can be played free for all or in teams. Multiplayer can be played online and off, through preset playlists and customizable private matches. Console system link and computer local area network play is implemented.
Beta
The beta for Blur began on March 8th, and beta codes were given out from various gaming websites. The beta allowed players to test out six tracks, four game modes, fourteen fully licensed vehicles, and over thirty challenges. It also included Blur's Leveling Up system, which unlocked various items until Level 10 is reached and then, on March 25, up to level 15. The beta also allowed players to connect to Twitter to post updates via the game. Because of such high demand, Blur was made into a public beta which started on April 6th and was available to anyone, via the Xbox Live Marketplace. The beta ended May 10th.
Computer Requirements
Minimum:
OS: Microsoft Windows XP, Windows Vista, Windows 7
Processor: Intel Pentium D Dual Core 3.4ghz or better
Memory: 1 GB Ram for Windows XP, 2 GB for Windows Vista or Windows 7
Graphics: 256 MB NVIDIA GeForce 6600GT or better or ATI Radeon 1600XT or better with Shader 3.0 capabilities.
DirectX®: Microsoft DirectX 9.0c
Hard Drive: 14GB of free hard drive space
Sound: 100% DirectX 9.0c compatible sound card
Internet: Broadband connection required for Multiplayer Connectivity
Recommended:
OS: Microsoft Windows XP, Windows Vista, Windows 7
Processor: Intel Pentium Core 2 Duo 2.0ghz or better
Memory: 2 GB Ram
Graphics: 256 MB NVIDIA GeForce 7800GT or better or ATI Radeon 1800XT or better with Shader 3.0 capabilities
DirectX®: Microsoft DirectX 9.0c
Hard Drive: 14GB of free hard drive space
Sound: 100% DirectX 9.0c compatible sound card
Internet: Broadband connection required for Multiplayer Connectivity
Links