Blur

255px
Developer(s)
Bizarre Creations
Publisher(s)

Activision

Release date

US May 25, 2010
EU May 28, 2010

Genre(s)
Racing
Game modes
Single player, multiplayer
Platform(s)
PC, Xbox 360, Play Station 3
Rating
ESRB (US) E10+
PEGI (EU) 7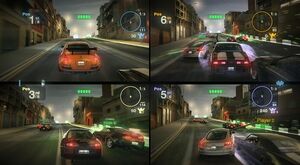 Blur is an upcoming arcade racing video game developed by Bizarre Creations and published by Activision. It features a racing style that incorporates over 50 licensed and customs cars, 14 real locations, and realistic car physics and damage modeling with arcade vehicular combat. This combat is the use of 8 power-ups like missile's, shields, and speed boosts. All the power-ups are energy based and don't represent any actually objects. The progress a player makes in the game is based on fan points, a new version of Project Gotham's Kudos system. Fan points are rewarded for drifting, using power-ups, and completing online challenges and challenges that are unlocked mid-race by driving through fan icons. Blur is being designed to tie closely with the game's website, and will also integrate with popular social networking sites like Facebook, Myspace, and Twitter to post race results as soon as they are completed. It's menu and hub system is a fictional social networking site. Some special car models have been designed by Bizarre Creations themselves. There are also some heavily altered versions of familiar urban environments, such as the Los Angeles river halfpipe and several parts of London.
Career Mode
Blur follows a career mode where the story plays out through email messages sent through numerous fictional social networks, many of which reference more famous online services such as 'Inner Tube' (parody of YouTube. The goal of the career mode is to defeat all of the rivals by beating them in a one-on-one. The rivals will have their own racing styles and will be apart of certain fictional servers. In order to unlock the one-on-one, players need to meet the rivals demands (Earn 7,000 Fans", "complete four events in four different cars", etc.) and complete the rival's events. In order to unlock more events a player must achieve lights and to unlock more cars a player must earn more fan points. Lights are achieved by placing in events and fan points are earned by pleasing.
Multiplayer
The game can be played with up to 4 players via splitscreen, system link, and online with a maximum of 20 players. However, users cannot play online with splitscreen at the same time. There are two (known) basic multiplayer modes: regular racing and Motor Mash. A player can alter game modes in a veriety of ways including determineing the number of laps, assists, and the types and number of power-ups. These modes can also be played in teams. You can also set up a match type called "World Tour" which is essentially a quick play option for players who want to jump into a match with no hassle. Here, every player is given a random car and thrown into a random series of courses with a standard ruleset. In Multiplayer, getting more fan points increases your rank, which unlocks cars, modifications, and challenges.
Beta
The beta for Blur began on March 8th, and beta codes were given out from various gaming websites. The beta allowed you to test out six tracks, four game modes, fourteen fully licensed vehicles, and over thirty challenges. It also included Blur's Leveling Up system, which unlocks various items until Level 10 is reached, but the rank cap went up to 15 on March 25. The beta also allowed players to connect to Twitter to post updates via the game. Because of such high demand, Blur was made into a public beta which started on April 6th and was available to anyone, via the Xbox Live Marketplace. The beta ended May 10th.
External Links