This article is a stub.
You can improve it by adding more information.
Barge
Ammo
1
Type
Defence
Range
Medium
Colour
Purple
Barge is a defensive power-up which releases a burst of energy which can blast nearby vehicles away from the vehicle that activated it whilst slowing them down. The blast does not effect the vehicle that activates it. Barge can be used mainly as a defensive weapon but can also destroy Shunts, Bolts and Mines within its blast radius.
Modifications (Online)
Mod
Group
Icon
Description
Rank
Affects
Showy Flourish
Yellow
Gain bonus fans each time you damage an opponent with power-ups.
6
Fans
Iron Fist
Yellow
Your Shunt attacks deal more damage.
20
Shunt
Safety Net
Orange
Any Power-up that hits you while your Shield is active repairs a small amount of damage.
3
Shield
Splash Damage
Orange
Increases the blast radius of your Barge attacks.
17
Barge
Bribe
Green
Get a random Power-up at the start as well as each time you respawn after being Wrecked.
15
Vehicle
Last Gasp
Green
Primes your car with explosives that you can detonate after you get Wrecked.
38
Vehicle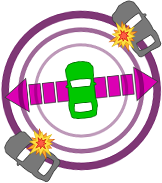 Barge is a good form of defense against an attack when a shield is not available.
Using a Barge on players in front of the vehicle will push them away giving them a speed boost.
Players should be cautious when overtaking a player with Barge selected.
Community content is available under
CC-BY-SA
unless otherwise noted.